Spring is here and with spring begins the start of tick season.
While ticks are active all year round, they are most common in the spring and summer. Ticks will begin biting as soon as temperatures are consistently above 7 degrees.
Warmer weather is right around the corner and it's time to state thinking about how you prepare your backyard to prevent a tick infestation.
Follow these tips to keep ticks away: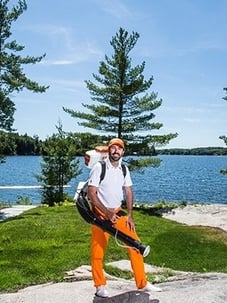 Keep your lawn mowed: ticks love tall grass and other vegetation. Keeping the lawn trimmed will discourage ticks from taking up residence

Move woodpiles away from the house: Ticks hide in woodpiles so moving this away from the house reduces the risk of them entering.

Remove leaf litter: ticks also love to hide in leaf litter and other debris. Regularly rake up fallen leaves and remove any other yard waste to reduce tick habitat.

Fence off your yard: consider fencing off your yard to keepout wild animals that may carry ticks.

Use professional tick control services: the best way to avoid tick bites and prepare your property is to use a professional tick control service like Mosquito.Buzz to eliminate the risk of ticks.
Our licensed and trained professionals visit your property in spring and fall when ticks are most active, targeting the areas they live, rest, and hide, so you can stay outside all season long.
Click here to learn more about our Tick Control services.