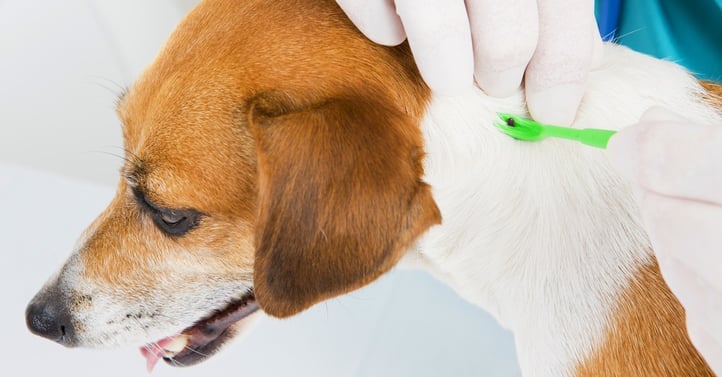 Ticks are an opportunistic pest, and will latch on to you or your pet if you brush past them. It can take a while for a tick to latch on to your dog or cat because of their fur, so it's important to be proactive when it comes to tick control and check your pets regularly.
The last thing you want is to allow one of your pets to bring a tick into your home, and run the risk of an infected tick latching on to you or your family.

Dogs and Tick Bites
Ticks are most common in woodlands and grasslands, so if your dog is accustomed to going for nature walks with you or roaming around on their own, they are at risk of coming into contact with ticks.
Ticks can't fly; instead, they will latch on to your dog's coat as it passes the area the tick is resting in. Ticks will typically attach themselves around a dog's head, ears, feet, or neck, since they prefer warm, moist areas of the body.
They're big enough for you to spot, so do a thorough check on your dog whenever it's spent some time in tick prone areas. When running your hands over your dog, a tick will feel like a small bump. To remove a tick, it is best to twist it off your dog, making sure not to squeeze the tick and expel any of it's blood back into your dog.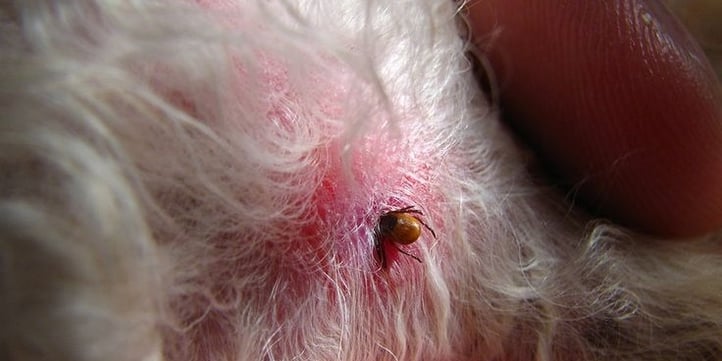 Cats and Tick Bites
If you have an outdoor cat, you need to keep an eye out for ticks, too. Although Lyme disease is rare in cats, it isn't unheard of. Once a tick begins to feed on the blood of your cat, it's body becomes engorged with blood and expands. This might look like a mole or a small bump, so it's important to regular check ups on your cat after it's come back from an outdoor trip.
Similar to dogs, it's best to remove a tick as soon as you can. Speak to your vet about safely removing a tick from your pet - the last thing you want to do is leave a partial tick inside your cat or dog, as the remainder could be infectious.
Prevention and Protection
Here are a few guidelines and best-practice prevention techniques to protect your pets from tick bites.
Reduce tick habitat around your property.
The best way to reduce the risk of ticks biting your pets is to reduce tick habitat around your property. Here's a quick checklist;
Keep grass mowed and vegetation trimmed
Remove leaf litter
Use deer fencing to keep deers out (they're notorious for ticks!)
Restrict the use of groundcover, such as pachysandra in areas frequented by family and roaming pets.
Remove brush and leaves around stonewalls and wood piles.
Move wood piles and bird feeders away from the house
Trim tree branches and shrubs around the lawn edge to let in more sunlight.
Check your pets after they've been outside.
Grooming your dog or cat after their outdoor walk should become a routine, especially if you live in a tick prone area. Comb your pet's fur and keep an eye out for ticks that haven't yet latched on - and get rid of them!
If a tick has attached itself to your pet, make sure you grab some tweezers and remove it as soon as possible, without squeezing the tick. Many pet stores sell handy tick removal kits to help you out.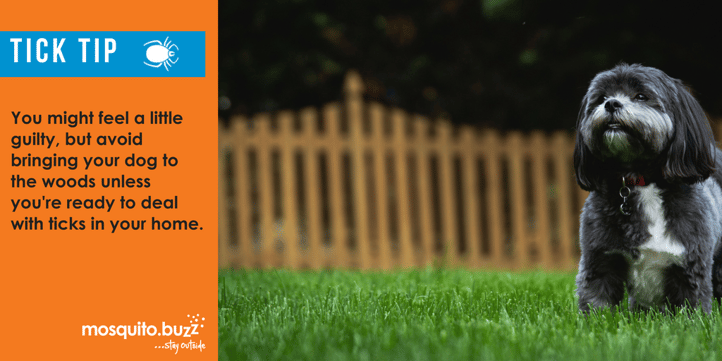 Use tick preventatives.
There are a range of products on the market that you can use to help keep your pets temporarily protected from ticks, including;
Topical treatments, sprays and powders containing pyrethrin or permethrin

Shampoos containing pyrethrin
Tick collars containing carbamates and pyrethroids
While these solutions may work temporarily, it's best to talk to your vet first, and some cats and dogs can have adverse reactions to topical treatments or tick collars.
Look into vaccinating your pets.
In Canada, dogs can be vaccinated against Lyme disease, however the vaccine is still quite new. Most vets will only vaccinate dogs that live in tick-infested areas.
Look into professional tick control.
Ticks are notorious for spreading Lyme Disease, which can affect dogs, cats, and humans. A highly effective way of preventing potentially harmful tick bites is to protect your property with professional barrier control.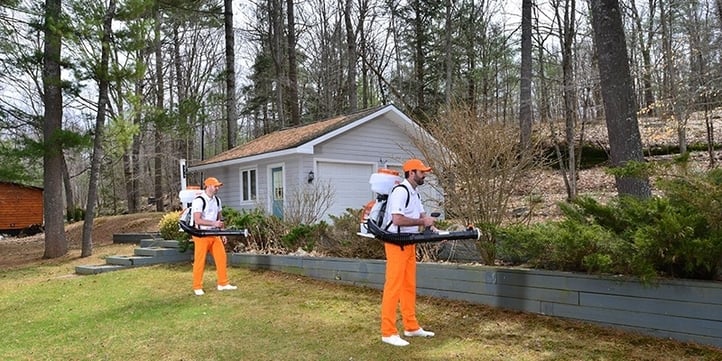 At Mosquito.buzz, licensed and trained technicians visit your property during Spring and Fall when ticks are the most active, targeting areas that they live, rest, and hide, such as tall grasses and vegetation. Our control products are approved by Health Canada, and are safe for use around mammals, so you won't need to worry about unnecessary harm to your pets.
Follow us on Facebook for regular bite prevention tips and all the latest tick and mosquito news.