As pet owners, we strive to provide our furry friends with the utmost care and protection. While we often focus on protecting them from fleas and ticks, one tiny but significant threat often goes unnoticed: mosquitoes. These pesky insects can cause discomfort, transmit diseases, and even lead to severe health complications for our beloved pets. To help you ensure the well-being of your furry companions, we have compiled a list of top tips to protect your pets from mosquito bites. By implementing these simple yet effective measures, you can create a safe and mosquito-free environment for your pets.
Limit Outdoor Activities During Peak Mosquito Times
Mosquitoes are most active during dawn and dusk, so it's wise to limit your pets' outdoor activities during these periods. By avoiding walks or playtime when mosquitoes are abundant, you can significantly reduce the chances of your pets getting bitten.
Utilize Mosquito Repellents for Pets
Consult your veterinarian about suitable mosquito repellents for your pets. Avoid using repellents formulated for humans, as some ingredients can be toxic to animals. There are various pet-friendly repellents available, such as sprays, wipes, and spot-on treatments. Always follow the instructions and dosage recommended by your veterinarian.
Remove Standing Water
Mosquitoes breed in stagnant water, so it's crucial to eliminate any potential breeding sites in your surroundings. Regularly check your yard for any containers (including water bowls!), birdbaths, or other objects that may accumulate water. Empty and clean them to ensure mosquitoes cannot lay their eggs.
Look Into Professional Mosquito Control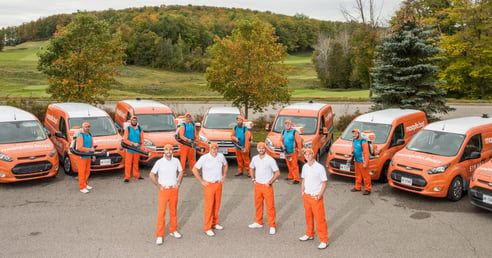 Apart from heartworm disease, mosquitoes boast a portfolio of health risks to a range of creatures, including West Nile and Zika. A highly effective way of preventing potentially harmful mosquito bites is to mosquito-proof your property with professional barrier control.
At Mosquito.buzz, licensed and trained technicians visit your property every 21 days of the mosquito season, targeting areas that skeeters live, rest, and hide, including shrubbery, under stairs, decks, and landscape plants. Both natural and synthetic control products are approved by Health Canada, and are safe for use around mammals, so you won't need to worry about unnecessary harm to your pets.
When the technicians spray, they just need 30 minutes to let the solution dry, during which pets should remain indoors. After the 30 minutes is up, they're good to go outside and play, safe from harm from mosquitoes!