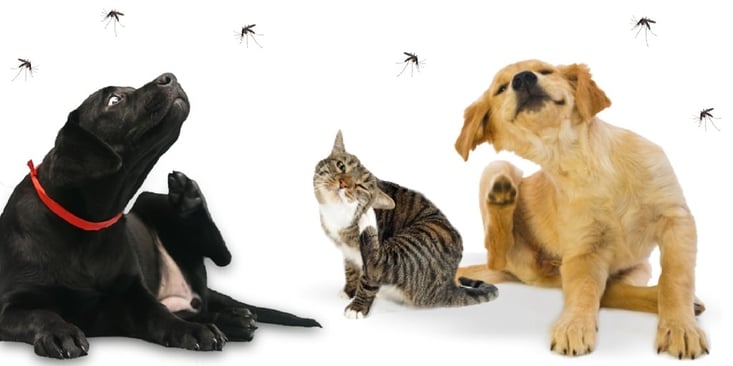 Even though our furry friends may have a full coat of hair to cover them, they're still at risk of mosquito bites, particularly around the ears and nose. Mosquitoes aren't overly fussy when they're looking for a blood meal, and pets find themselves in a range of situations, just like us. From an irritating yet harmless itch, to a serious, harmful health concern, you just never know what might happen when it comes to mosquito bites.
Dogs and Mosquito Bites
Since dogs spend so much time outside digging up rose gardens and such, they're going to be more at risk of mosquito bites. Female mosquitoes feed on them just like they do us, and dogs too get that uncomfortable itchy feeling that comes from the saliva mosquitoes inject into us to thin our blood.
The spit they leave behind often carries harmful parasites and diseases, and heartworm disease is one particular nasty that skeeters can pass on to our pets. Nearly 250,000 dogs are treated for heartworm disease every year, and symptoms include lethargy, fatigue, cough, decreased appetite, and weight loss.
When a dog is infected with heartworm offspring, it can grow as big as a foot length. This puts severe pressure on their vital organs, so preventing mosquito bites is your best bet against a sick dog and a big Vet bill.
Source: Centers for Disease Control and Prevention
Cats and Mosquito Bites
Cats can be notoriously sensitive to mosquito bites. Their immune system isn't as tough toward bites as ours, so the result of a mosquito bite can range from scaling, ulsers, and lesions to hair loss and changes in pigment. In severe cases, cats may need to be treated with corticosteroids.
Felines are subject to heartworm disease, too. Mosquitoes can pick up the disease after biting a dog, and then pass it on to cats when they bite them, too. As with dogs, the heartworm offspring that gets passed from the mosquito can grow into a foot-long parasite inside a cat, so it's especially important to take precautions during mosquito season.
Some studies have even shown catnip to be an effective mosquito repellent; talk about a win-win situation for your cat!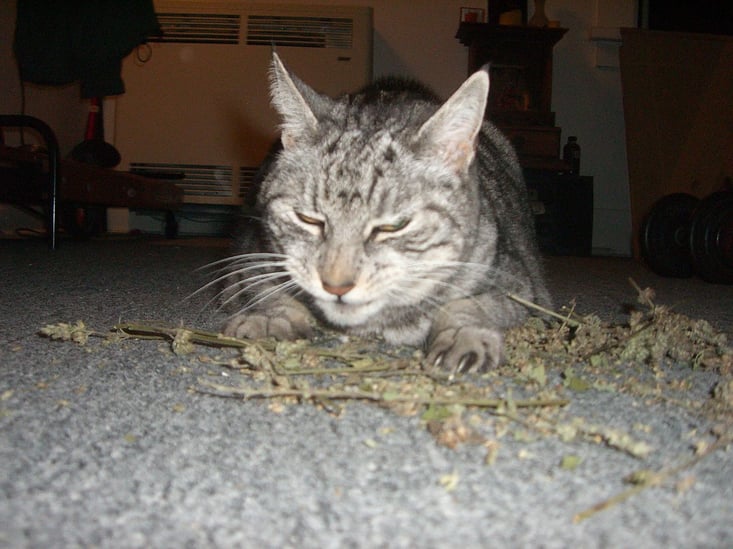 Prevention and Protection
Here are a few guidelines and best-practice prevention techniques to protect your pets from mosquito bites.
Don't use protects that are meant for humans on your pets.
This includes DEET based sprays, which can cause skin irritation, vomiting, and seizures to your pets. Instead, look for products that are specifically formulated for use on cats and dogs; many flea and tick products are good for repelling mosquitoes too, so be sure to read the label next time you're at the pet store.
Remove standing water around your property.
This is Mosquito Control 101. Since mosquitoes breed in standing water and don't travel far from where they breed, the best prevention against mosquito bites is to reduce mosquito populations around your property. It only takes an inch of water to breed hundreds more mosquitoes, so be on top of your yard maintenance and get rid of anything that can carry stagnant water.
This includes their water bowls, people! You probably wouldn't drink a glass of water that's been sitting around for a few days, so don't let your precious pets do the same.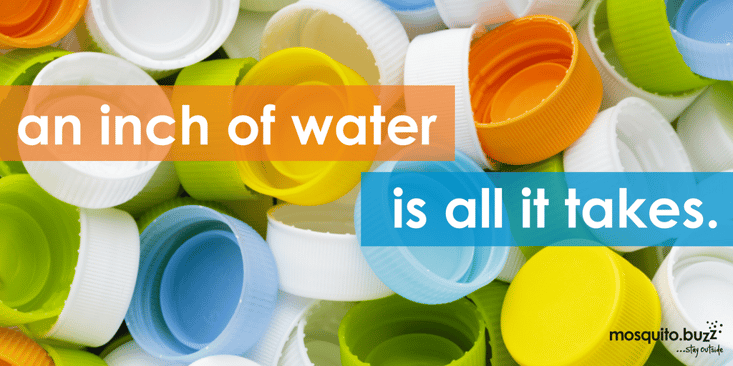 Look into professional mosquito control.
Apart from heartworm disease, mosquitoes boast a portfolio of health risks to a range of creatures, including West Nile and Zika. A highly effective way of preventing potentially harmful mosquito bites is to mosquito-proof your property with professional barrier control.
At Mosquito.buzz, licensed and trained technicians visit your property every 21 days of the mosquito season, targeting areas that skeeters live, rest, and hide, including shrubbery, under stairs, decks, and landscape plants. Both natural and synthetic control products are approved by Health Canada, and are safe for use around mammals, so you won't need to worry about unnecessary harm to your pets.
When the technicians spray, they just need 30 minutes to let the solution dry, during which pets should remain indoors. After the 30 minutes is up, they're good to go outside and play, safe from harm from mosquitoes!
Follow us on Facebook for regular bite prevention tips and all the latest mosquito news.