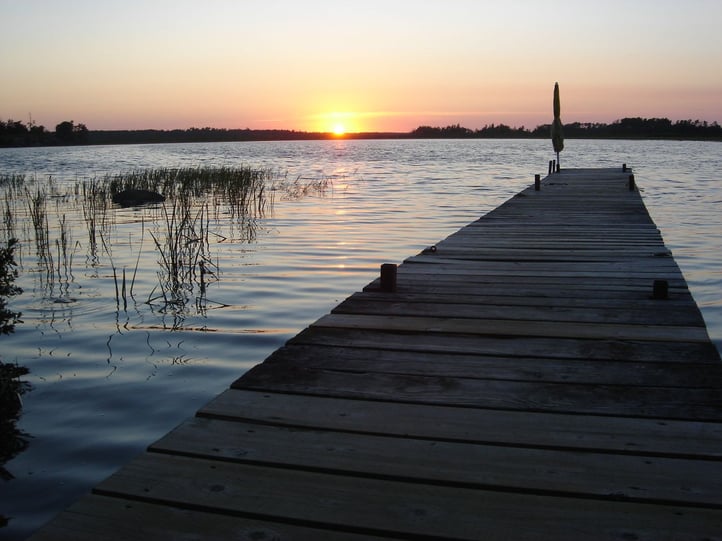 Don't look now cottage-goers, but winter is right around the corner. That means it's time to shut down your property and put your cottage to bed before the gales of November come early. Don't cry because it's over, smile because it happened!
Sure, packing up your cottage for the winter is never much fun.
It's boring, tedious, and a lot of grunt work; but it's also one of the most important tasks that any cottage owner can undertake, especially if they want to keep their mosquito population at bay come spring time.
Just remember; while you are checking out of your cottage for the winter, mosquitoes are most definitely checking in.
Here are 6 mosquito tips to remember when closing down the cottage for winter
1.

Trim Grass and Vegetation

Like any crafty predator, mosquitoes use tall grasses and shrubs to stalk their unwitting prey, Planet Earth-style. Unfortunately, that prey is most often us innocent human beings, just trying to enjoy a summers night at the cottage with family, friends, and a couple of cold drinks.

So make sure to trim your grass, shrubs and trees before packing up your cottage for the winter. This will ensure that mosquitoes have less room to roam on your property when you return in the summer.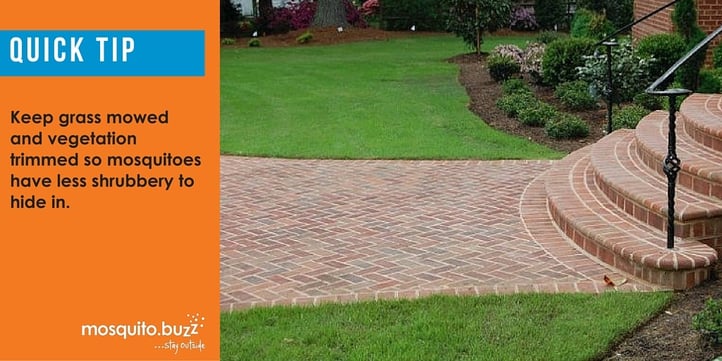 Mowing the grass will also help eradicate future puddles on your lawn, which we know mosquitoes love to breed in. Filling in low levels with extra soil and seed, or having the lawn aerated will also help prevent puddles from forming on your property. An aeration will relieve soil compaction, which will help stop puddles from forming after a long day of rain, giving mosquitoes one less place to congregate.
2.

Put away Boats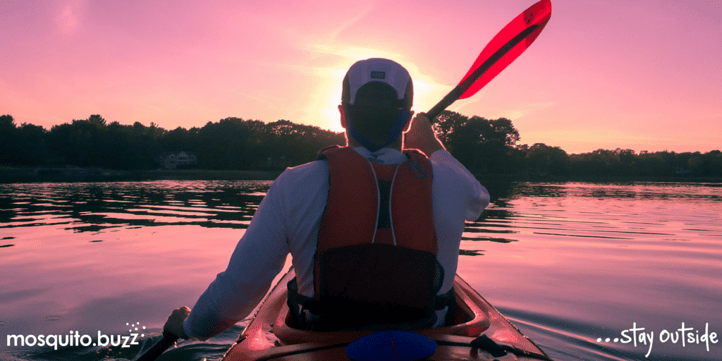 For many Canadians, a day spent out on the boat is the perfect summer tradition. What's not perfect, however, is the high number of mosquitoes that can breed inside your boat covers and overturned canoes if you leave them exposed to water during the winter.
If battling with mosquitoes isn't a new tradition that you want to start next summer, make sure to store your boats properly when closing down the cottage. Flipping over your kayaks and canoes or storing your boats in a marina over the winter are two foolproof ways of lessening the number of breeding mosquitoes on your property.
3.

Clear Woodpiles

Just like ticks, mosquitoes love hiding out in the dark humidity of wood piles, leave piles, and grass piles. They're like some sort of disgusting members-only club for villainous insects!

If you want to avoid a mosquito mutiny around your cottage next summer, make sure to get rid of your wood piles as soon as you create them. While leaving leftover wood for next season may be tempting, you'd be wise to get rid of the pile before mosquitoes can breed in it.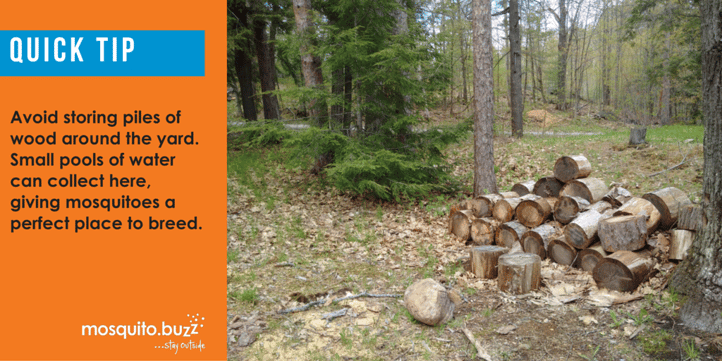 4.

Tidy Up

Make sure that your property is spick and span before you leave your summer haven for the winter. Go for a walk around the cottage and get rid of anything that doesn't need to be there; kids toys, flower pots, tarps, helmets... whatever could give mosquitoes a place to hide and plan out their summer attacks.

Items like tires are notorious for breeding thousands of mosquitoes, since they not only carry standing water but also provide some insulation for larvae. These things should all be removed from your property and stored in a place where mosquitoes can't get to them.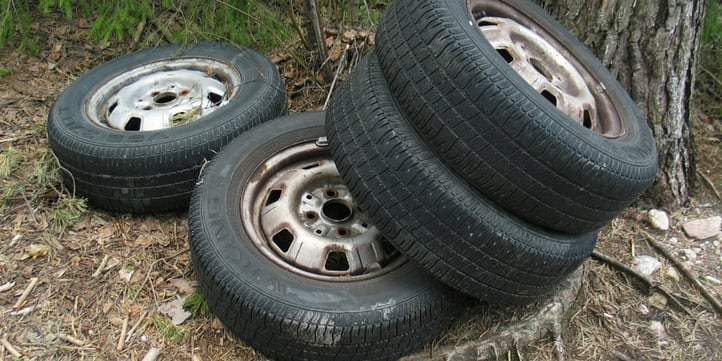 5.

Clean Your Gutters

Cleaning the gutters is not a good-time chore, that's for sure. But it is important, as gutters full of debris give mosquitoes an ideal place to hide, and the standing water that collects there gives them an ideal place to breed and create even more little terrors in the Spring.

RELATED > 10 Places Where Mosquitoes Hide

We know it's not your favourite job, but if you want to get outside more next summer, get in the habit of cleaning out your gutters when packing up your cottage. The pros of doing it definitely outweigh the cons when it comes to this task.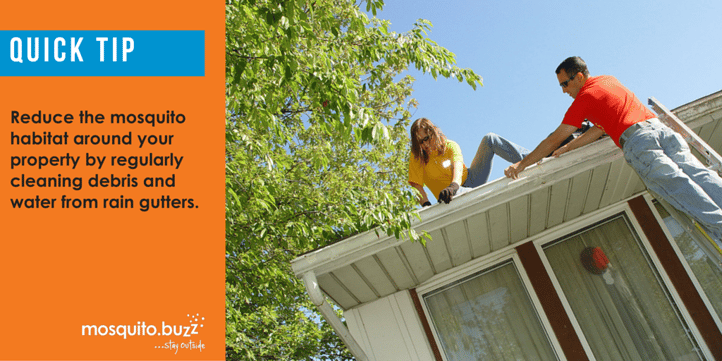 6.

Check Under Your Deck

When it comes to mosquito control at the cottage, it's important that you look in every nook and cranny when closing up shop for the winter. That includes under your deck.

The space beneath your deck can provide an ideal mosquito breeding habitat, that's for sure. Check if any puddles have formed, and if so, drain them and fill them with sand instead. This will help prevent standing water from accumulating, giving mosquitoes one less place to lay their eggs.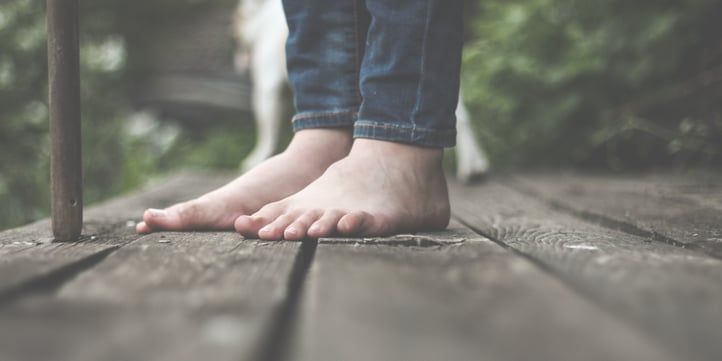 It's important to take the right steps to control mosquito populations around your property. If you're looking for a proven way to protect your family against the risks of mosquitoes, talk to our team of mosquito control experts about barrier protection for your property, cottage, or outdoor event.
Follow us on Facebook for more prevention tips & tricks.